It is time.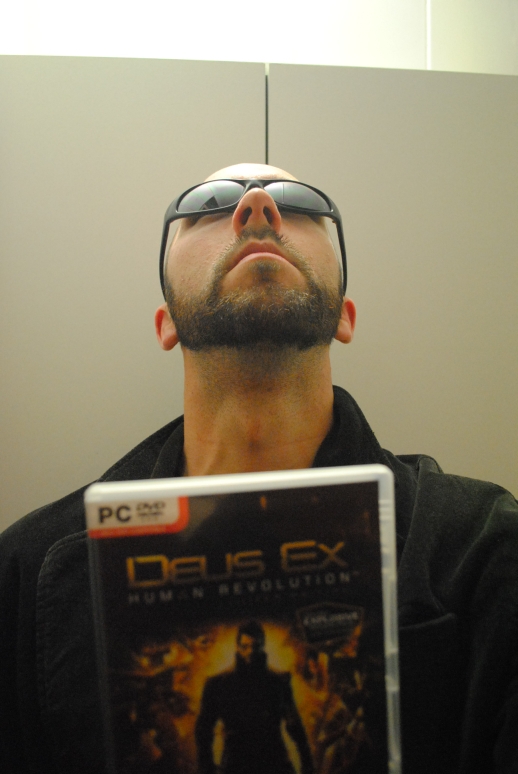 On the ninth of September, in the Year of our Lord 2011, a friend was kind enough to purchase this little electrode for me. Had it not been so, I am not sure when I might've otherwise had the opportunity to play it. In keeping in tune with the generous spirit with which he gave me this title, I now present an extensive report to not only provide entertainment to those who care for such things, but perhaps to sway the idle fence sitter or ardent skeptic to undertake the journey which lies within. Let's hit it.
Matt's Deus Ex: Human Revolution Review 13/10/2011
"To save his life after a deadly attack, Adam Jensen had no choice but to become physically augmented with cybernetics. Driven by his need for answers, he soon finds himself chasing down leads all over the world. The choices he makes, as he unravels a vast conspiracy, will help determine the fate of humanity."
Disclaimer: Deus Ex: Human Revolution is a heavily story-driven game. In order to preserve the experience of its world, I have decided to avoid any and all storyline aspects in this review save for what one can learn from staring at the back of the box. I will, however, go into a fairly extensive analysis of the game mechanics and features. If you want to go into this game completely blind, I suggest skipping this review. I will provide commentary on weapons, some enemies and augmentations. If you feel a cursory knowledge of these items will spoil your experience, disregard this review. With all this in mind, I give this review a minimal spoiler rating.
Quite some time ago now, Deus Ex: Human Revolution was announced and the news was met with mixed feelings amongst the series' fan base. Deus Ex: Human Revolution would mark the third installment in the series. For those not in the know, the game which birthed the series, Deus Ex, released in 2000, and the game with the most mispronounced name in history, is considered by many to be the greatest video game ever made for its electric mixture of cyberpunk elements, rich RPG aspects, film noir feel, fantastic storyline and deeply philosophical undertones. The game has generated a cult following over the years and as with things of such a nature, its popularity seems to have increased over time, with its fans having complete faith in the series and its various modifications.
That is the way things were, that is, until 2003 rolled around.
Towards the end of 2003 a sequel to Deus Ex was released, Deus Ex: Invisible War. The unshakable faith of the fans was cast into upheaval as a result of the delivery. In a word, Invisible War was
dismal
. Now, by dismal I'm not talking about a delivery a bit poorer than the first title. I'm not talking about a game of slightly lower quality than collective expectation. What I'm saying is that the game was a write-off. Picture Blood 2 with its few decent elements, such as soundtrack and Caleb removed - that bad. It was as if the game was created with a total disregard for the integrity of its parent. The Deus Ex community reeled in terror and most did the wise thing by simply pretending that Invisible War never existed.
The complete failure of Invisible War proved a dark omen for the promise that Deus Ex: Human Revolution (henceforth referred to as Deus Ex 3) brought. Technology had advanced remarkably since the last installment in the series, but concerns over Deus Ex 3 mirroring the failure of Invisible War, or worse - being a hopeless sellout - were raised. Thus, the announcement of the third game was met with an interesting mixture of trepidation, excitement and curiosity.
One of the high points of anticipation during its creation came with the release of a trailer video. Now I personally am not a fan of cinematic preview videos which feature no actual gameplay, which seems to be the norm these days, but I found this video to be the best of its kind I had ever seen, although admittedly I don't actively watch such things at all.
So, if you like flashy movies with explosions and loud sounds, here it is: The Deus Ex 3 Trailer Video!
Sometime later during development I discovered that Eidos Montreal was working in close collaboration with the Deus Ex fanbase for the creation of Deus Ex 3 - taking criticism where necessary, but slowly edging it towards some form of synergy with the original icon. It was announced that Deus Ex 3 would be a prequel to the first and thus cleverly circumvent the numerous problems presented by Invisible War's stain on the franchise. I learned that many of their creative decisions were veering towards maintaining the artistic integrity of the series, and that they were not simply looking to milk the Deus Ex name. In short, what we had under construction here was what seemed to be an impossibly rare gem in the contemporary gaming market - a video game series looking to add a faithful entry into its repertoire. This would prove to be a brave premise given the context of having such a mighty parent, but would Eidos Montreal be up to the task?
Time would tell.
Upon the arrival of my very first weekend of owning the game, I isolated myself, made sure my calendar was clear of any other arrangements, pumped up the volume and sat ready to submerge into the Deus Ex 3 experience. I greedily forced the DVD into the ROM and edged closer to the screen, expecting some form of hyper-advanced installation application to appear. Alas, the installation was quite simple and didn't contain much imagery, but that was but a scratch compared to the injury inflicted on my excitement by the window which immediately followed the successful installation.
Steam.
A very familiar beast by now, this demon forced itself on me, and I reluctantly submitted to its needs. Steam is absolutely necessary in order to play Deus Ex 3, and although it does offer the capability to play Deus Ex 3 while offline, Steam must be running for Deus Ex 3 to function. I suppose that is the way of things these days - applications keeping people in touch with the community and news feeds in brief glimpses in and out of playing games - but I will never agree with the supposed merits of such systems. After a mandatory installation of Steam, a Steam update and a necessary Deus Ex 3 update, all of which took a grand total of four hours after having first put in the disc (ascribe the vast majority of this value to South African Internet speeds), the excitement was gone, but the title quickly redeemed itself once I began to settle into the experience.
Let's start with the breakdown.
The year is 2027.
In Deus Ex 3 you assume the role of Adam Jensen, an ex-SWAT specialist who has been employed as head of security at Sarif Industries, one of the world's leading researchers in human augmentation, that is, the physical enhancement of human beings with mechanical implants. The innovations brought about by the augmentation technology are too numerous to list, and serve as a focal point for the story. As the result of an incident at Sarif Industries, you are forced to have your body fitted with very advanced implants in order to survive. Eventually your search for answers will lead you to many varied locations throughout the world as you begin to unravel plots within plots. Will you embrace the change that comes with your newfound power, or will you resent the loss of your humanity?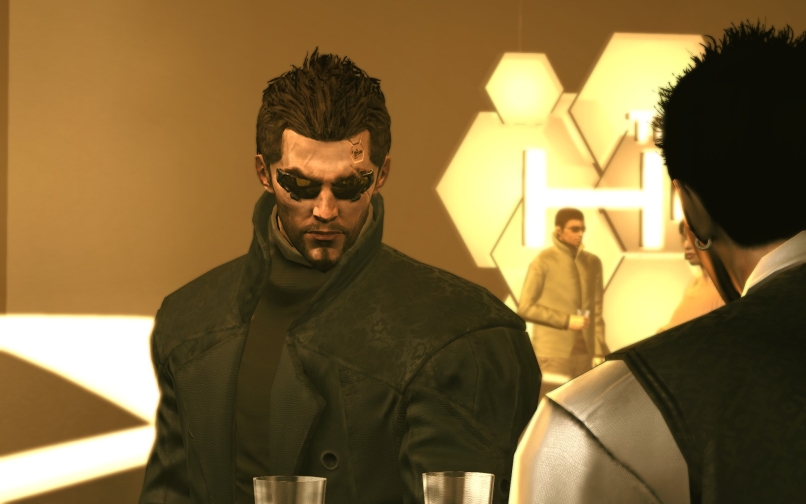 Adam Jensen is one sexy beast.
Here we see something that is sorely missing from many games these days - a playable character with personality! From the word go it's clear that Adam Jensen is a man not to be crossed. Adam Jensen speaks constantly in a type of gruff, elevated whisper with a Christian Bale-esque inflection. At first this heavy-handed accentuation comes across as quite amusing, but eventually it grows on one. Everything about Adam simply oozes with style, and while fans of the first might feel he lacks a bit of the cerebral quality of JC Denton, he comes into his own through having his own backstory and inspirations. It is almost always a pleasure to assume a personality in a video game, and Deus Ex 3 does it splendidly. Based on one's decisions and choices, Adam's character can either be that of a diplomatic investigator, or even lean towards being something of a brute, but more on that in a moment.
As is tradition in these, I suppose, let us begin with an analysis of the graphics.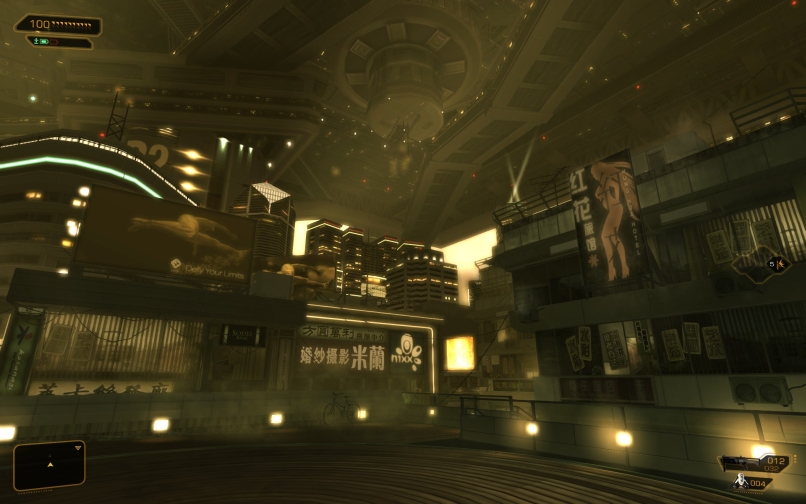 Welcome to Deus Ex 3.
If one were to ask me, it seems as if visual effects in games have reached a plateau in their complexity on some levels, and the main distinction between one game and any other in this time is their stylistic idiosyncrasies.
I played the game on maximum visual settings minus a few of the superfluous bells and whistles, as well as on Direct X 9.0c. Simply put, Deus Ex 3 is the best looking (from a technical perspective) game I have played to date. Here we have a world which succeeds in being remarkably gritty while including enormous amounts of colour. The locations vary from shadowy alleys to high tech facilities and all the visuals are integrated seamlessly. Enormous light sources ignite dystopian streets and imbue them with life and colour. Lights passing through coloured glass cause an effect whereby light seems to bleed into receptive vacuums, and all this is so effectively delivered that the visuals can even invoke an emotional reaction at times. Gorgeous.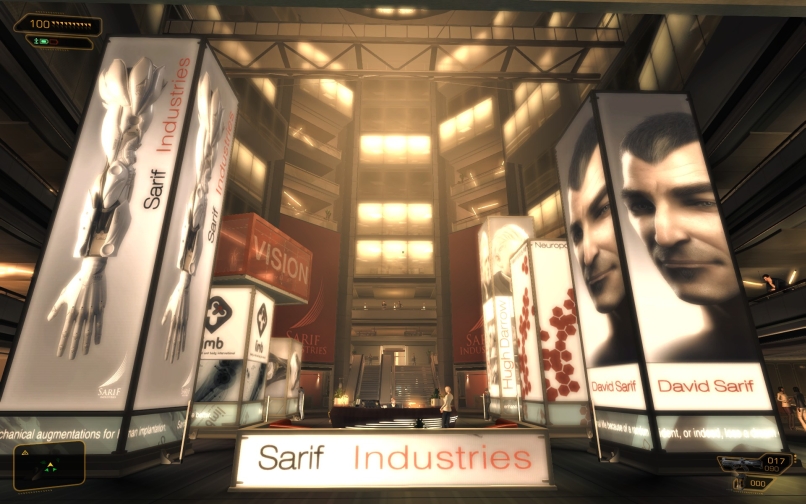 Sarif Industries - We make tomorrow look like yesterday. Sorta.
However, the key word is style when it comes to Deus Ex 3. The gentlemen responsible for the creation of this game didn't simply stop at making it technically beautiful. The entire world of Deus Ex 3 is guided by a specific artistic ideal which takes shape in the form of various architectural designs throughout the world. Soft curvature, symmetric shapes, eccentric lighting - Deus Ex 3 upholds its stylistic visual laws in all forms, which serves to further highlight the contrast between the mundane and marvelous in its world. This is a game in which visuals complement your adventure very nicely indeed, and it's not through creating something exotic or foreign to casual human experience, but rather through their creative artistic design in handling ordinary everyday objects. What one witnesses visually in this game is a mark of intelligence, creativity and, dare I say, genius.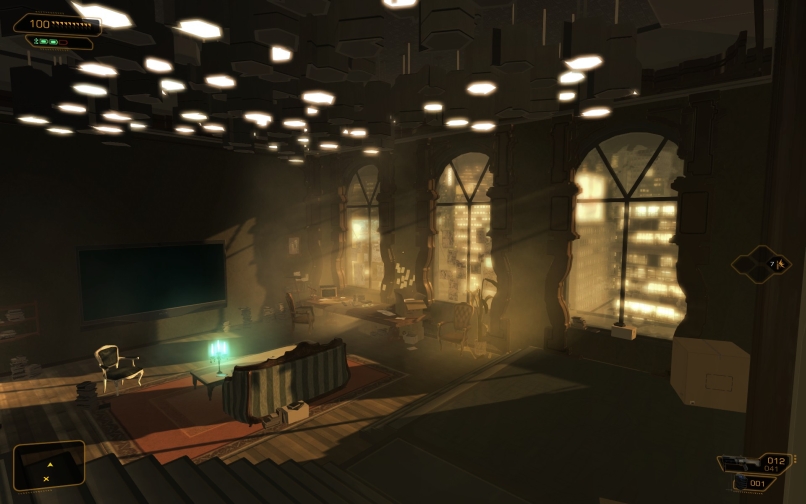 Apartments are like any other structure - they're either a benefit or breathtaking.
Oh, but the visual beauty of Deus Ex 3 doesn't stop there. Deus Ex 3 braves a territory which I've never seen handled before in any other video game - fashion. In keeping with the spirit of 'human revolution', a lot of clothing in the world of Deus Ex 3 draws from a renaissance style. As I am a straight male I lack most of the vocabulary necessary to describe this particular facet of the game, but let's just say that the creators took the visuals that extra step further, and it's a credit to them. Due to my failing in not being able to describe the clothes correctly, I took a shining example in the form of a screenshot. Here: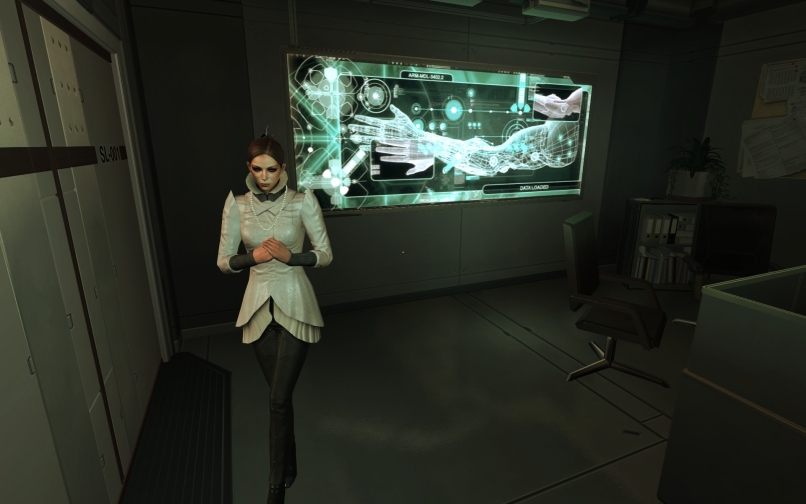 A pretty face wasn't enough. They made her a pretty everything.
However, despite my excessive praise for visuals, the game is still garbage if there is no gameplay factor, of course. Let's get to the meat and see what drives this cybernetic construct.
Players of the first Deus Ex will know the score, as this game follows it remarkably faithfully, but for those new to the franchise, Deus Ex 3 takes the form of a first person shooter with a heavy dose of RPG elements. Human Revolution will disappoint you if you want nothing more than to run around and shoot things. The game requires exploration, investigation, and intelligent assessment and execution. A single main objective serves as the guiding force for the player, while numerous secondary missions or 'side quests' may be followed if the player so chooses. The missions usually revolve around securing a certain object, doing some detective work or incapacitating an individual.
The game seems to take the form of two distinct level types, varying between being a large, open city sprawl or 'hub', in which there are numerous small optional objectives to pursue and a lot of exploring to be done, and smaller military operations where the areas are filled with patrolling security guards, and attempting to ask questions will usually only yield answers in lead. Although the smaller missions are essential to giving the game structure and purpose, Deus Ex 3 is at its strongest in the city hub areas, wherein seemingly enormous areas to explore will delight those who fancy such adventures, but impatient players might find the 'no-nonsense' missions to be more to their liking.
The open city areas are truly amazing, though, and it is my understanding that some were planned which never came to fruition. Still, I don't think any player of Deus Ex 3 will forget the experience to be had in their shadowy networks.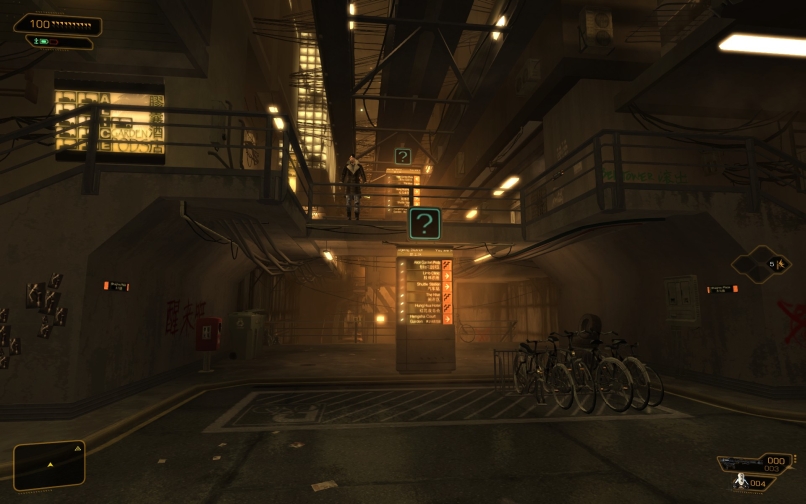 They may seem to be a cosmetic feature, but you'll need the navigational instructions on those information boards, trust me.
Deus Ex is about choice, and Deus Ex 3 retains the spirit of that faithfully. In each mission you undertake, indeed, in almost each and every decision you make you will have to assess your options and environment and make the choice which suits you or your roleplaying decision. Will you be kind or cruel? Will you play it by the book and keep a clean conscience or will you make decisions which lean towards the morally grey? Will you shoot to kill or will you simply stun? Will you evade enemies altogether or will you charge headlong into conflict with guns blazing? Human Revolution succeeds admirably in presenting choices to the player, and it doesn't stop there. When one factors a player's augmentation decisions and weapon choices into the equation it makes for a unique experience each time, if one should desire to vary their play method substantially, but more on that juicy stuff in a moment.
Deus Ex 3 retains all the classic environmental styles of its parent. You'll walk the mean streets of a world that is not necessarily tolerant of human augmentation - with yourself being unmistakably so. Environments will vary from alley to secret facility - corporate building to apartment structure, including all of the literature, shady dealings, and intellectually stunted (or gifted) individuals which come with each of these. The areas in Deus Ex 3 never feel redundant or uninteresting because of their stark beauty and the characters within.
The formula is simple; complete mission objectives, find hidden paths and areas, or take out opponents and you are rewarded with experience. Experience yields Praxis Points which allow you to purchase augmentations on the fly, although in this context I'm not referring to robotic extremities - you've already got all those - but rather they unlock the latent capabilities within the augmentations you carry. I won't reveal the reasoning the game offers for this, but it all makes sense within the context of the world. By expending Praxis Points you can develop your character as you see fit. Build your character to your liking, get strong, follow the objectives and win the game. That's it in a nutshell.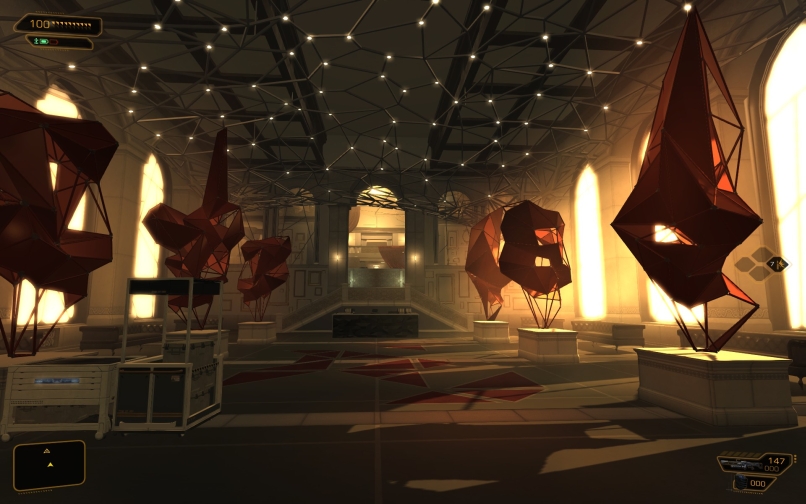 Home, sweet ho-ly shit.
Let's take a look at the combat in Deus Ex 3.
Deus Ex 3 allows one to simply avoid enemies while completing missions. If your skill at sneaking and your patience is sufficient, you can play the true pacifist and creep your way through the game. Enemies aren't omniscient in the game; they'll genuinely look around as they patrol and be completely unsuspecting if you're careful. If you stay alert and keep your head down you can pass without incident, if you so choose.
But even to the most evasive player, there comes a time where you take an off-balance step, you mistime a jump, or you simply make an inordinate amount of noise, the enemy notices you and you have to get your hands dirty. Enemy alerts are exacerbated on the hardest difficulty in that they'll all become alerted once a single one is (presumably he relays the information to his compatriots). This is when you have the option of flight or fight. If you run, enemies will eventually presume you've fled and calm down. If you should fight, there are many options available to you. If you have non-lethal weapons, you can generally nullify threats with very little noise. A particularly stylish weapon, the Tranquilizer Rifle, allows you to fire a tranquilizing dart at an enemy which takes a moment to take effect - the beauty is that the target, if it didn't see you, won't even notice that it's been hit. Once the enemy drops it will still be alive, only incapacitated. If you're crafty, you can grab the body and then pull it to a hidden location and leave the victim there, else his buddies just might notice the fallen guard and sound the alarm, which puts the search for you into high gear.
Let's assume you're the type who doesn't particularly care, though. You like a nice shoot-out, so you take the shots where you can get them with the loudest gun you can find. Deus Ex 3 won't disappoint in this regard. Enemies are lethal on higher difficulties; they won't be very forgiving when you've got six or so firing at you! The AI in the game is quite excellent. The game doesn't feature the usual Call of Duty style of bland enemies who follow set patterns and who simply hide behind cover. The enemies are dynamic and coordinated. Some will provide suppressive fire, others will move to close, they'll throw grenades where necessary, react to your weapon selection, and some will even flank you from great distance. What is most impressive is that enemies, if your position is confirmed, will turn your location into a firing range. If you sneak away successfully without being spotted, enemies will continue to attack your previous position until such time that they've confirmed you're no longer there. This allows you to either turn defense into attack or sneak away while they're distracted. Brilliant.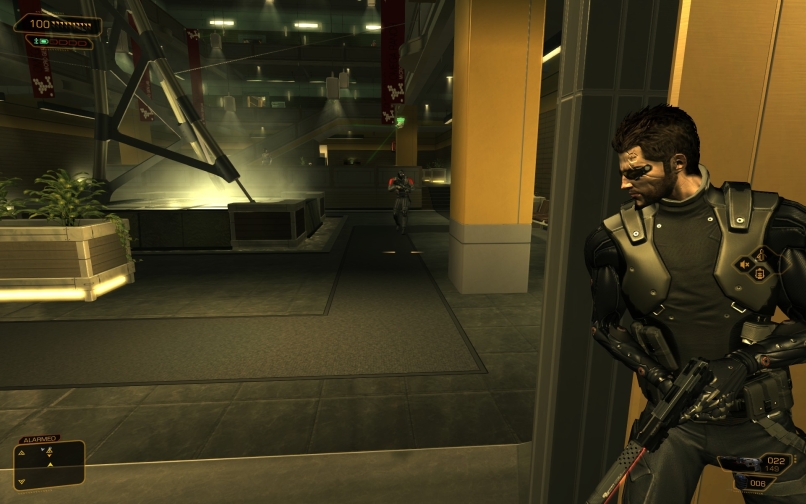 Never know what hit 'em.
You'll notice in the screen above that you can actually see Adam Jensen in an impending action sequence. You'll forgive me if I'm not fully up to date with my modern video game lingo, but in combat it is possible to take cover behind an object and operate from there. This action in combat forces the camera to assume a third-person view, and leaning out from the wall, crate, or what have you will shift the camera to have the player looking just over Adam Jensen's shoulder as you take aim, or simply scope out an area. This action is obviously voluntary, though, and while very useful, players who find such mechanics to be completely distasteful could probably get by without it. I personally am a person who despises third-person views, but I found this feature to be quite enjoyable, albeit a little unrealistic, given your ability to see beyond your means.
In keeping with the RPG spirit of the series and following its parent's example, Deus Ex 3 features an inventory system. With ammunition now featuring as an item which occupies inventory space, one's weapon choices become even more narrow and specialised. While a decent amount of weapons can be carried, it may be wise to rather focus on two or three which the player may find agreeable and complementary to his or her playing style.
A feature which caused some discomfort among Deus Ex 3 players was the implementation of health regeneration. Here we see what is a fairly common game mechanic these days; if the player takes damage, the player must take cover for a few moments and health regeneration will commence. If additional damage is taken, the counter is reset and the risk to the player's life increases. Simply put, sustained fire is the greatest threat to the player.
However, that is not to say that healing has been oversimplified. Collectable items in the world can serve to jump-start the healing process and increase your health. The true catalyst for this feature's introduction would be the extremely powerful healing augmentation in the first game. I don't think there's a single person who has played the original who could dare to suggest that it was remotely balanced, however, that's not to say that it wasn't sensible in the context of the first. Lo and behold, here we have a healing method which makes sense in the context of the third - a well-reasoned and sensible solution to a problem the first game might've presented, with credit given to the clever minds behind Human Revolution.
A curious deviation from what might be normal for such games, and the original, is that the game has completely done away with mêlée weaponry. In its stead we have takedowns, which are a type of instant-kill (or incapacitate) mechanism available at the tap of the button, and at the cost of a single energy cell, an alternate resource. Upon the player having pushed the button, a scripted sequence plays out in which Adam Jensen physically assaults an enemy from a third-person perspective, though not necessarily from behind Adam Jensen. Takedowns only carry a minor dynamic quality based on your angle of approach and enemy(or victim)'s condition. While I would normally despise such a mechanic in any other game and accuse it of breaking immersion horribly, something about the way in which the camera shifts back to assume your viewpoint from behind Adam's eyes manages to maintain a feeling of constant flow to the action. While ultimately I would prefer an exciting array of hand-to-hand weapons, this new feature is by no means a negative quality of the game - at worst it can be said that it is a small failure to live up to what was a superb dynamic in the first game.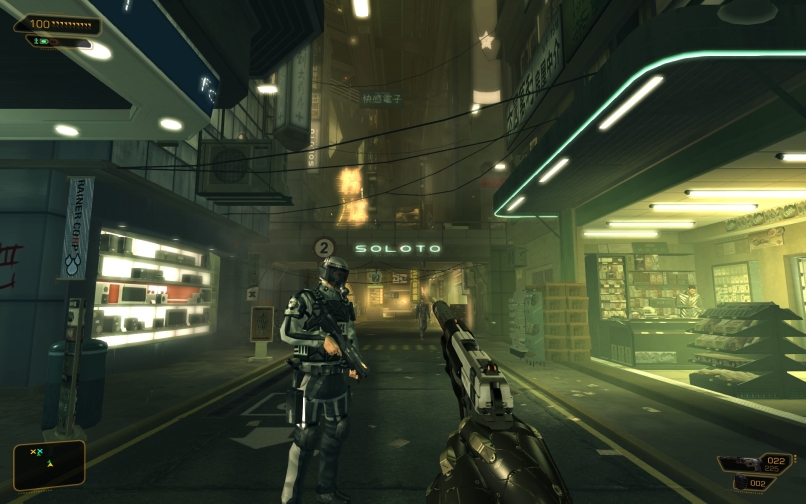 Keep your metallic hands where I can see 'em!
Let's discuss what it is exactly, besides wonderful visuals and the feel of the game, that separates it from other shooters - augmentations.
The augmentation term is flexible in the world of Deus Ex. While it serves as a means to identify the chief plot point of the game - human augmentation via robotic enhancement - the term also describes skills which your character is capable of - some as passive, superhuman capabilities and others as active skills which may be used at the player's discretion. As you collect Praxis Points you are able to invest and upgrade your existing skills to be more effective.
For those who have played the first game, skillpoints have been done away with entirely. Skills, skillpoints and augmentations have coalesced into a single game mechanic. Augmentations can include something as simple as being able to sprint for longer distances, while also offering the player many choices, from recoil suppression to a personal cloaking field. A notable example of an augmentation which has been tastefully implemented would be a jumping augmentation; instead of an active ability, it is now triggered dynamically simply by measuring the duration of time the player holds the jump key in for - a seamless and beautiful solution.
The economy for active capabilities in Deus Ex 3 is measured in energy. Energy sources must be collected throughout the game in order to sustain one's augmentation usage. While there is a point to which your energy will recharge by default if you deplete it, any type of sustained or intensive augmentation use will definitely require energy supplements.
There's no other way to say it - the skills and augmentations of the game have been streamlined and simplified. The complexities and the nuances of each have been done away with, and we're left with a system which honestly leans a little closer to the arcade than the in-depth RPG spectrum. While I did not fully appreciate what I see as an oversimplification, as with so many things in Deus Ex 3, the system feels just right in the context of the game and many of the augmentations are a delight to experiment with and combine!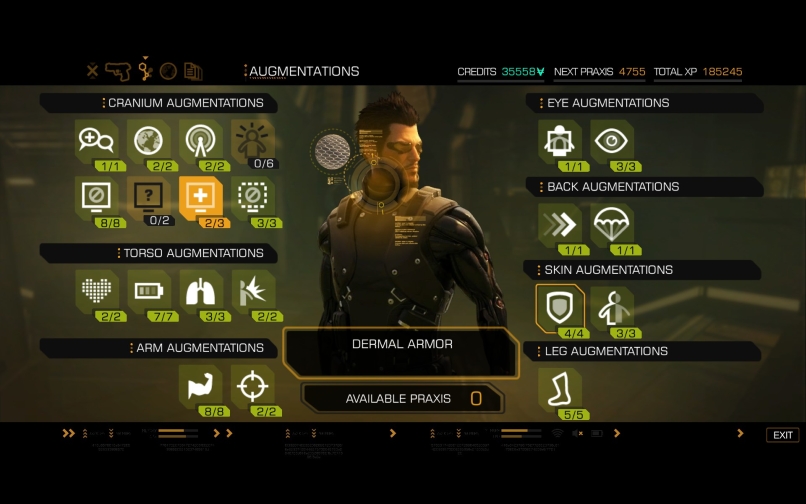 You'll spend quite some time staring at this screen - and planning.
One area in which Deus Ex 3 triumphs over its predecessors is in game balance. None of the weapons, with the exception I found to be the rocket launcher, are ineffectual. The distribution of experience and currency within the game world are also well thought out, but most remarkable would be the ammo distribution throughout the world. Deus Ex 3 keeps the player on their toes, as reckless shooting will certainly result in the player having to switch to a different weapon. Ammo scarcity is prevalent, and only the most dutiful explorer will ever have an abundance of any particular ammunition type.
The entire augmentation feature also carries with it the traces of an intense balancing effort - with limitations put on every augmentation's maximum power, discarding the set four skill levels per mastery and four levels of power for each augmentation. While this balancing effort is admirable, it does detract from some of the fun involved in experimentation in the first. Augmentations feel somehow more restrictive, and the intensity of the RPG quality is lessened as a result of this. A problem also arises in that there are still 'must have' augmentations, and the game shoots itself in the foot in that you can practically acquire the entire spectrum in even a casual playthrough. What this means is that not only will you likely choose an extremely similar path in augmentation upgrading in each game, but that which you choose doesn't really matter either - you'll have all the augmentations you want in the end anyway, which is a considerable blow to the game's replayability. That particular design choice is perhaps the most puzzling of all.
Deus Ex 3 offers three difficulties:
Tell Me a Story
Give Me a Challenge
Give me Deus Ex
*
For a game of this nature I instantly played on 'Give me Deus Ex' (hardest), but be warned, dear reader - Deus Ex 3 is regarded as being quite a difficult game. While I found the difficulty to be comfortable on hardest - in which being discovered by enemies is very punishing and direct combat can be ill-advised, the story-driven nature of this game means that a player may be frustrated if it is found to be too challenging. There is also another important aspect to cover which could hamper a player's experience, and which caused quite a lot of controversy after the release of Deus Ex 3:
Boss fights.
As with the first, there'll be moments where you'll go head-to-head against a boss enemy. The reaction to these encounters by the fanbase was one of rage, as while the first Deus Ex always presented the opportunity to completely evade the enemy altogether, such an option is not available in this game. This problem is exacerbated by the fact that the boss fights are challenging. To make matters worse, the player has no choice but to kill the bosses in these events. It's as if the entire ethos of Deus Ex was discarded immediately and without apology for these events, and the fan reaction was justified. Although I don't personally mind the boss battles terribly in and of themselves, I will agree that these events stand callously in contravention to Deus Ex, and the thought of a novice or extremely discreet player being forced to kill these characters in order to advance further in the game's great story is simply unforgivable.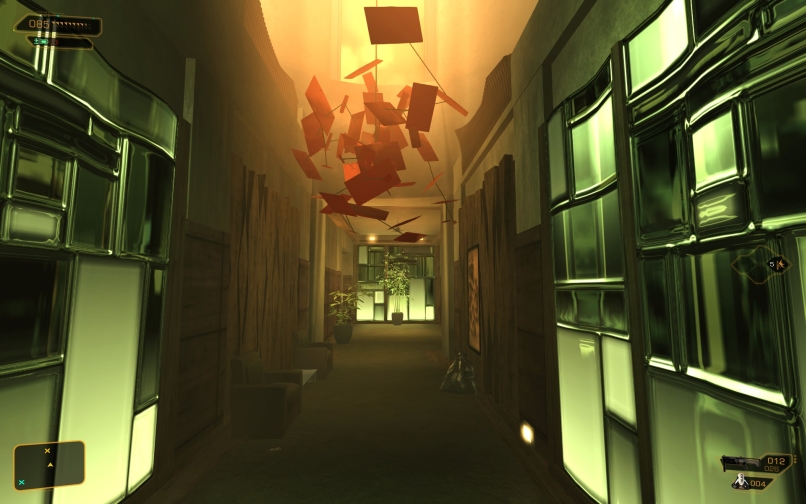 Gosh, you've... really got some nice interior decorating here.
A final matter of game balance I must draw attention to is hacking. Hacking is handled quite differently in Deus Ex 3 when compared against the first. Deus Ex 3's hacking takes the form of a minigame, true to the trend of such things in modern games. The game is relatively simple and warrants no deep explanation - a simple 2D interface with the capturing of nodes which stand a chance to trigger a counter. If the counter reaches zero, the system shuts down and you must wait for a short period before attempting to access the panel again. However, a problem arises in that successful hacking yields rewards in cash, or credits, and experience. This serves as an incentive for an extremely thorough player to be very dedicated to hacking extensively. The result is that the player begins to hack all possible panels in the game in order to secure an inordinate amount of credits and experience - even going so far as to hack panels for which the player has the codes! I experimented with a followup game, however, in which I deliberately avoided hacking altogether. The result? While my experience was still excellent at the end of the game, the lack of credits did actually serve to impede me at some points. Having said that, choosing to hack an incredible amount is not worth the prize it yields, and I strongly suggest against this for any Deus Ex 3 player, but the incentive to be a hacking machine should have existed for its utility, not for the insignificant consolation prizes which the game currently offers.
The question that begs asking is; is Deus Ex 3 enhanced by a hacking minigame? My answer is a resounding no. If I had my way I'd do away altogether with the new hacking element, replace it with the old and simply offer the experience and cash rewards through other avenues in the game. I did not find the minigame particularly endearing, and while it was a fairly cute feature the first few times, whether by virtue of the fact that I simply hacked a ridiculous amount of objects in my first game or not, I find myself sighing when I come upon a few panels which the player must hack if he or she wishes to access them. No additional component of a game should invoke that reaction in any player. While I can't speak for the majority of Deus Ex 3 players, I can say that I find the hacking now to be an exercise in tedium.
Throughout my experience of the game, having completed it three times in total, I've only had the game crash once. Otherwise I have run into very few bugs, and those which were present in no way rendered the game unplayable. A quirk of the game, reported by some, is that its sound volume is extremely low, forcing the user to turn the computer volume up. The problem then is that the sound volume fluctuates in certain instances - casual combat can be a comfortable volume while, most notably, a character speaking in an environment with some form of echo effect can be borderline deafening. While this was a notable nuisance, it didn't serve to spoil the overall experience.
A minor personal gripe I feel I must voice is the excessive swearing utilized throughout the game, even amongst characters who wouldn't seem to do so. This is an unpleasant modern trend that I take issue with. A game doesn't somehow feel more real or serious to me as a result of excessive swearing, nor do I consider expletives to be indicative of decent writing - quite the opposite, in fact. This serves as an unfortunate blemish on the otherwise decent writing of Deus Ex 3.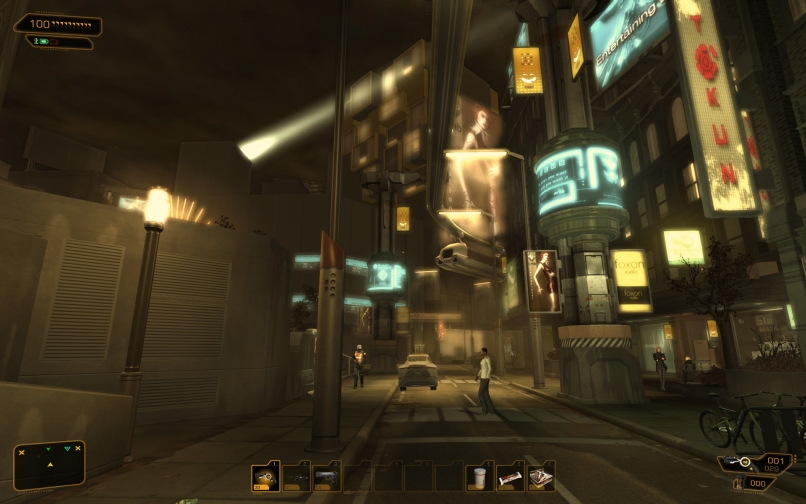 The underclasses are starting to get desperate.
Final analysis:
So here they tinker with metal, to try to give it a type of life, but is Deus Ex: Human Revolution a revolutionary gaming experience, ready to rev its actuators and bring on the new order, or did it die before leaving the operating table? I can tell you with complete confidence that Deus Ex 3 is the best gaming experience I have had in recent years, and I must fully congratulate everyone responsible for the creation of this product. The world of Deus Ex 3 is remarkably believable in every minute detail, the visuals are great when at their worst and breathtaking at their best, with Michael McCann's brilliant, subtle, haunting, if not slightly repetitive, score uplifting the ambience of the whole.
The story of the game is superb, as well as the handling of the questions which it raises. The action is frantic and exciting, and the game features very good replay value due to the myriad of choices and strategies available to the casual player - to its credit I have completed the game three times now and I am still stumbling onto new tactics and some smaller paths and secrets, but be advised, friends - Deus Ex 3 is a purely personal experience and features no co-operative play or multiplayer elements at all. I can guarantee that this fine title will include several moments which you won't soon forget and that it will offer many hours of engaging entertainment. Well worth the investment!
However...
Inseparable from this game is its mighty, mighty sire from 2000 - Deus Ex. The Deus Ex fanatic may enquire as to how exactly it measures up, and to this I say; it cannot. Deus Ex 3 cannot realistically be expected to out-Deus Ex Deus Ex. Deus Ex 3 serves as a lovely synthesis of the old and the new, coincidentally mirroring their mission with the creation of the graphics in the game. Deus Ex 3 doesn't feature all the goofy voice acting, the memorable quotes, the plethora of character customization options, the amazing conspiracy integration and brilliant storytelling, writing and philosophy which embodied the first, but what Deus Ex 3 does do is that it faithfully captures the essence of the first perfectly - it's got the small injections of humour, the silly snackfood and beverage inventory items, the ambience, the bizarre camera angles during conversation, resource management and freedom of choice which defined the first - it is a modern and faithful incarnation of the spirit of the Deus Ex franchise, and isn't that what
really
matters?
"You are a planned organism, the offspring of knowledge and imagination rather than of individuals." - Morpheus
Final Score: Majestic. 8.5 Tesla Cannon secondary discharges out of 10.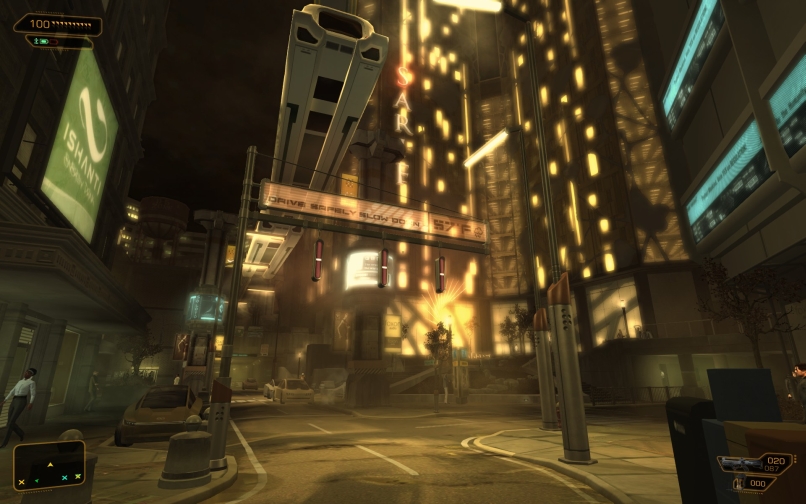 MOVE ON. MOVE ON. MOVE ON.
* - The eleventh time the list function has been used on Posty.