There was talk about it in another thread and I promised to deliver, well.. tada!










They're pretty basic I know but this is just the start, I'm open to all requests!
I had a bit of fun this afternoon: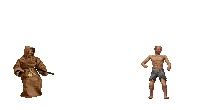 I love the smell of Gasoline in the morning!
One thing that baffles me somewhat is that I've looked through the art files several times and I'm missing The fanatic/prophet/zealot assets plus Cheogh's animation sprites which I find odd
One last thing if you're getting tired of shooting mimes in the Dark Carnival all the time, try out this clown instead:

So if the clowns replace the mimes, what happens to those annoying french bastards?

Heh heh heh.. it had to be done